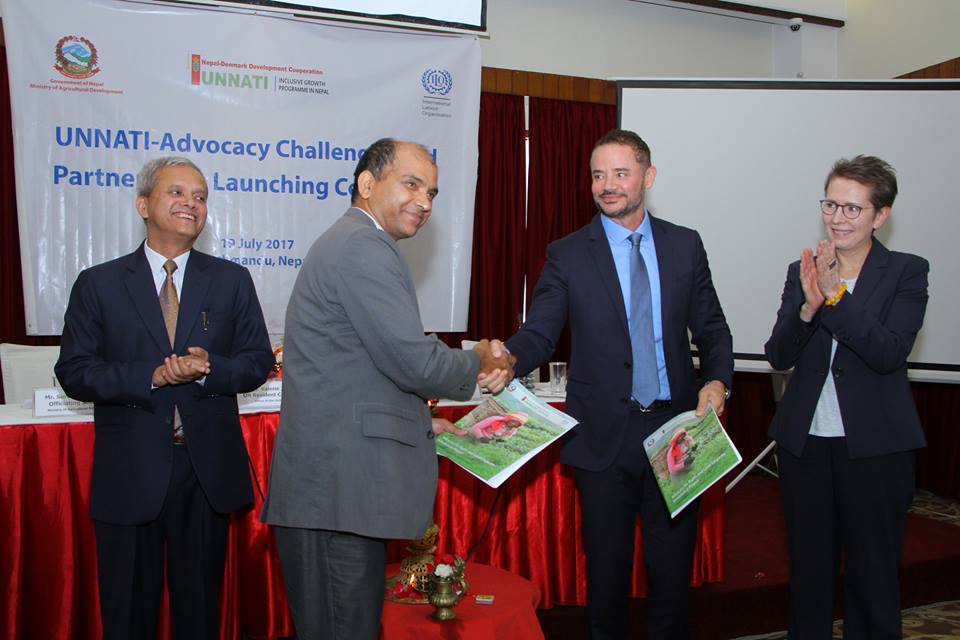 Asian Human Rights and Culture Development Forum (Asian Forum) officially signed the contract on 19th July 2017, along with the 29 other partners for the implementation of Inclusive Growth Programme-UNNATI's Advocacy for Rights and Good Corporate Governance project under the Advocacy Challenge Fund (ACF).
Joint Secretary at the Ministry of Agricultural Development, Suresh Babu Tiwari, UN Resident Coordinator Valerie Julliand, Charge d'Affairs at the Embassy of Denmark Ingrid Dahl-Madsen and ILO Director for Country Office for Nepal, Richard Howard handed over the letters of exchange with 30 ACF grantees comprising organizations of employers, workers, NGOs, cooperatives and the media.The project is implemented by the International Labour Organization (ILO) and funded by the Danish Government. The project focuses on the advocacy of the rights of the farmers and workers working in four value chains viz. orthodox tea, ginger, cardamom and dairy in the 7 eastern hilly districts of Nepal namely in Ilam, Panchthar, Dhankuta, Sankhuwasabha, Tehrathum, Taplejung and Bhojpur where Asian Forum is implementing the project in Dhankuta, Sankhuwasabha and Bhojpur. This project is also expected to improve the Occupational Safety and Health (OSH) issues of the farmers/workers and ameliorate their working conditions.
In the event, ILO Country Director, Mr. Richard Howard emphasized on the fact that the inclusive growth programme can attract the youth in Nepal which will make the country's development possible.