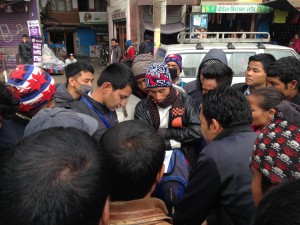 In the process of providing continuation and dynamism to the overall development of the nation, Asian Forum determined to bring together the scattered communities within the country and those who are abroad in a common forum in order to fight for their rights through common consensus so as to abolish the ill practices and contribute for the well organized society and individual for their personality development through educational, health, economical, social, human rights and cultural development and ensure recognition in international arena. With motivation from this noble objective.
Asian Forum, a social organization for pure social service has been established under Company Registration Act, 2034,in 2062 for sustainable development, human rights protection and the development of cultural structures.It is located in Khusibu, Town planning Kathmandu.This organization was established by the migrant workers with decades of working experience in different countries, with the aim to serve as the forum to contribute in the strengthening the underprivileged, marginalized and the poor in different aspects of the life.
Asian Forum has been working in the fields of education , health care, skill development , cultural awareness and conservation and awareness of the migrants.It is determined to elevate the standard of life to attain the recognition of the society and the individual in the international arena by creating the educational and employment opportunities.It has been playing active role , since its establishment in assisting the poor and marginalized group, giving emphasis on the education and health of orphans, diligent, unaided and conflict affected children, women , migrant workers and their families back home.
Objectives
• This shall be a non-profit making people's welfare centered social organization.
• To develop a sense of co-operation and share experiences among abroad Nepal citizens who for employment ,also for other purposes.
• To develop a database of the individuals and families who had died because of occupational accident and to provide assistance to the helpless and affected families and children.
• To co-ordinate with the foreign and social institutions in abroad for the help of Nepalese.
• To carry out activities for giving information on the culture, traditions, lifestyle and conducts of the destination countries including the concept of Labour laws and ensure their commitment for cultural development and nationality prior to the departure for foreign employment.
• To keep the migrant workers informed about their families and national situation and to act as a mediator to draw the attention of concerned authorities to solve their problems.
• To notify about our nationality and culture in various countries as well as to conduct various cultural programs in foreign countries in order to give them knowledge about Nepalese cultures, traditions and rituals.
• To establish a Nepali library in foreign land in order to give information about Nepali Language to the migrant workers and other Nepali professionals and to develop a common forum for the Nepalese to share their happiness and sorrow.
To co-ordinate with the international community and local organizations to carry out Health camps through national and international medical practitioners in various parts of the country.
To carry out various awareness programs including seminar and workshops on major international health problems like HIV/AIDS, tuberculosis, mal-nutrition, abortion, cancer etc.
• To support the Nepalese who are victims of the accidents on foreign land so far as possible.
• To give emphasis on the education of the orphans, poor, diligent, helpless and conflict affected children and to support them.
To carry out research and studies on human rights violations within the country and try to prevent them.
• To try to work for promotion of human rights and to try to rescue the victims of human rights violation and try to solve their problems.
• To create awareness on human rights through co-operation and co-ordination with like-minded national and international non-governmental organizations.