In April 2015, Nepal suffered the most destructive earthquake in 80 years: 8,792 people lost their lives, 22,311 people were injured, and 796,315 buildings were damaged (511,530 fully damaged and 284,785 partially damaged) including homes, schools, and government buildings.
Even though Asian Forum is centered on the rights of Nepali migrant workers, the connections and networks we have gained throughout Nepal make us well-situated to partner with other organizations (Migrant Health Association in Korea, Incheon Sarang Hospital, and the Support Nepal Foundation) to bring relief to many whose lives were significantly altered from the effects of the earthquake.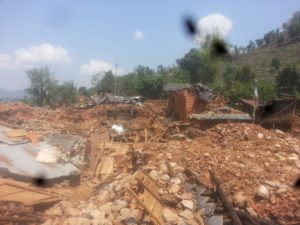 Our focus was on schools and students. Not only did the earthquake destroy many school buildings, but created much disruption to life as it had been before. The importance of school being able to continue is important for children, as well as for parents, bringing stability and order in the midst of a disorienting catastrophe. Even though the schools have a long way to go towards a full recovery, we were honoured to be able to encourage the students, staff, and community as they work diligently to rebuild.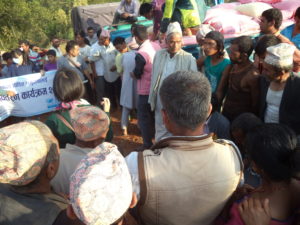 We went to some of the worst-affected areas, some places where we had to walk on foot because they were inaccessible by road. The Asian Forum team was led by Asian Forum Secretary General Mr. Bhaktaram Lamichhane and accompanied by Central Committee Members Mr. Bhupendra Khatri and Mr. Uddhav Pathak. Asian Forum Management Committee and office team also took part in the school distribution.